Author: Lisa Ridgwell, Experience Manager Crestron Electronics
As people return to the office, facilities and HR managers need to prepare meeting spaces to adhere to COVID safety guidelines and optimize them for video conferencing and collaboration.
Pre-pandemic, the prevailing thought was that huddle rooms and smaller sized rooms didn't need to be video enabled, as they were designed for quick in-person meetings only. Now, organizations realize that a virtual-first policy applies to every room, so they're quickly scaling up their video conferencing capabilities. Areas that had been previously underutilized or not intended to serve as meeting rooms, particularly small to medium sized rooms and huddle rooms, are now being equipped with video conferencing technology at an exponential rate. But which technology is the right technology to deliver the best video conferencing experience in these rooms?
Soundbars offer the best solution for huddle spaces and rooms where a rectangular table is positioned against the same wall to which the soundbar is mounted. Typically, these rooms have 3 to 4 seats with the longest distance from the soundbar speakers/mic to participants not more than 10′. Installation is simple and control is wall mounted.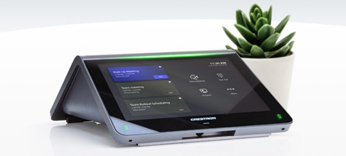 However, when the room size is expanded, with conference tables to accommodate up to 15 people, the distance from the soundbar to the participants sitting furthest away becomes problematic. It's simple physics; you can only cheat audio so much before distance from the mic becomes a fundamental challenge. Such spaces demand, instead, a center of table video conferencing solution.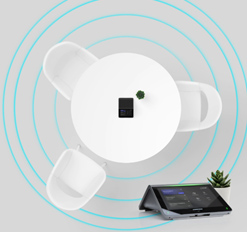 The Crestron Flex Mini Tabletop (MM) console sits at the center of the table – the optimal spot for collaboration in small to medium sized rooms. Its 10′ microphone range blankets rooms up to 20′ long x 20′ wide with impeccable pickup, so every voice – including those at the far end of table and those of remote participants – is naturally balanced and clearly heard. The camera can be placed wherever it makes the most sense, so everyone is clearly seen. And, with its sleek, compact design, Crestron Flex MM leaves plenty of room on the table.
With a native one-touch to join Microsoft Teams® or Zoom Rooms™ experience, as well as support for BYOD conferencing (which lets a user connect their laptop to use non-native video applications – webinars, video conferencing, etc.), this small device packs a powerful punch. Simplifying installation, the Crestron Flex MM features Power over Ethernet (PoE), as well as a single connection back to the monitor, leveraging standard cabling. Even better, there's no programming or software installation required.
To keep everyone connected and productive, we created the Crestron Flex Care premium service and support plan. It includes a direct line to a dedicated team of Crestron Flex technical support specialists, standing by to assist, 24/7. And with the option to remote control via the industry's most cutting-edge cloud management suite, your support teams will love it as much as your users.